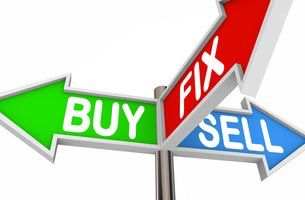 10 Necessary Budget Items when Rehabbing a Home for Retail Sale
In my experience of flipping over 450 homes in the Metro Atlanta area in the last 10 years, I have found that almost every single project requires these same 10 Items to be successful in selling the home. Some of these items may seem obvious, others may not. This list is not a totally inclusive list of everything you should consider, but will get you started in the right direction.
10 Items to budget when rehabbing a house
Carpet Cleaning or Replacement:  No one wants to see stains or bad matted down carpet. Get it cleaned or replaced. You will get back at least what you spend in purchase price, but usually much more.
Paint, Paint, Paint:  Paint the walls, touch up or paint the trim, even paint dirty old cabinets to bring new life. Keep in mind that one of the most important things you can do is choose the right color combinations. Clashing or out-of-date colors could cost you thousands on your sales price. Do online research. See what designers are using. Think about modern colors. Grays and cooler colors are popular now.
Caulk, Caulk, Caulk:  This one could have been in the paint section, but I thought it really deserved to stand on its own. Caulk is your best friend before you paint. Caulk every crack in the trim and between trim and walls that have gaps. Make sure you use a wet cloth to wipe excess caulk–the goal is to not see the crack, not to see the CAULK:) Also caulk around countertops and tubs to give a nice clean edge. If you have laminate flooring or similar that have gaps, find the filler or similar color caulk and hide those gaps. We want buyers focused on the house, not all of the issues.
Light Fixtures:  Does your home currently have a hodge podge of light fixtures that date the house or are in disrepair? Spend the dollars to put relatively inexpensive dome lights that match throughout the bedrooms, closets, bathrooms, and halls. Put a matching ceiling fan in the master bedroom and living room. Pick fixtures that create clean lines. We want to avoid anything that looks cluttered.
Kitchen Countertops:  With new paint and flooring, your old laminate countertops installed in the 90s will date your home. Site-built laminate tops can look custom and will bring you 2 times their cost in return on the sales price. Ugly kitchens cost sellers thousands. Don't leave money on the table when you flip your next house.
Landscaping:  You've heard that curb appeal is hugely important. Well, it is! If you don't have it,  you will not get buyers through your doors. Make sure all shrubs are trimmed evenly and below windows and deck rails. Look at the property from the street to see if it looks clean and proportional. Make sure weeds have been cleaned out of beds. Install plenty of pinestraw in those beds to make them pop! Take out unnecessary plants that crowd the beds. Cut your grass every week in the growing season while the home is for sale including edging the concrete and blowing off all surfaces.
Trees and limb trimming:  Again this could have been put into landscaping, but I considered it important enough to be its own budgeted item when rehabbing your flip house to sell. It is common that the reason I get a distressed house under contract is because of bad grading and excessive trees. Trees and tree limbs that block a buyer from seeing the front of the home will hurt you. Curb appeal is crucial. Have a tree contractor take out the small trees and limbs that block views of the home and remove trees that are very close to the house. These scare potential buyers. Have all the remaining trees in the primary yard trimmed up so the canopy is at least 10 feet up. It makes the yard feel cleaner and bigger. I have made tens of thousands on deals by being willing to take out trees.
Appliances:  How many homes have you seen that have a white dishwasher, a black stove, and a stainless refrigerator? For Pete's sake! At least get rid of the white dishwasher. Having all new and matching appliances will pay for itself in the sales price. Be smart on your purchases though. They can be low grade as long as they match and are new.
Mailbox:  Make sure your mailbox is not in disrepair or rusted or bent. If so, install a cheap wood or metal post and new box. It will cost you no more than $150 but will improve the first thing buyers will see when pulling into the driveway.
Front Door:  Curb appeal again!! This is the door your potential buyer will be entering the house from. Make sure the jam is cleaned and/or painted if needed. Make sure the front door lock looks nice — I've see too many rusted door knobs. Spend $10 and put new weatherstripping around front door so that it is clean. And lastly, make sure the door has a nice new coat of paint. Consider painting a color as well. Front doors that stand out can create nice curb appeal.
Hopefully these basics will help you feel more confident about your decisions to do certain items when rehabbing a house to sell. You can contact me at 678-833-2926 or joe.watkins@trustbravo.com with any thoughts, questions, or comments. Thanks, Joe.